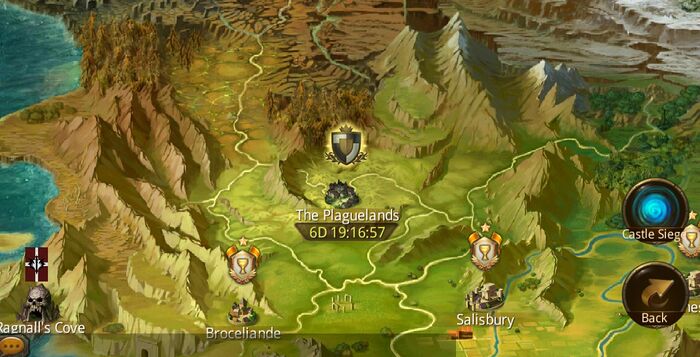 Plagulands is a limited time only city that occurred in June 2014. Plaguelands lasted seven days.
Lore
An infested wasteland has emerged in Camelot, spreading vile horrors across the lands. The druids have fled their homes, unable to contain the terrible scourge. A sickly green glow envelops the land, withering trees and wildlife alike. Only weeds have survived...weeds, and a tiny yellow flower called a Sunpetal. The land is silent save for the infrequent shriek of an animal unfortunate enough to tempt the poisoned waters...and the occasional klop klop klop of a mysterious horseman.
Heroes! King Arthur and Merlin have challenged you to save the Plaguelands from plight! Bring Merlin the most Sunpetals you can so that he may alchemize a cure, and he shall reward you handsomely.
Equip Druantia, Cernunnos, Amythestine and Cockatrice to boost your Sunpetal findings with every step!
Evolve your cards for even greater bonuses! (the above mentioned cards)
Tier 2 cards grant 2x
Tier 3 cards grant 4x
Tier 4 cards grant 10x
Only those who collect the most will win the top prizes. But be wary, for Pestilence prowls the plaguelands, waiting for fresh prey.
Plagueland Battles
Upon entering The Plaguelands you see the Menu options and your personal scoreboard/rank. You are given 4 choices in which you face different levels of
Pestilence
and also see the four different tier's artwork.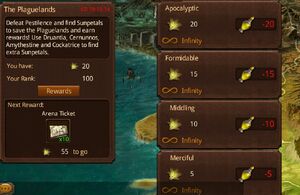 Apocalyptic requires 20 stamina points per turn but yields better rewards. You see Tier 4 artwork for Pestilence.  In this tier only, you have a very low chance at collecting Pestilence's card during the random boss encounters. 
Formidable requires 15 stamina points per turn. You see Tier 3 artwork.
Middling requires 10 stamina points per turn. You see Tier 2 artwork.
Merciful requires 5 stamina points per turn. You see Tier 1 artwork.
Rank Awards
Community content is available under
CC-BY-SA
unless otherwise noted.