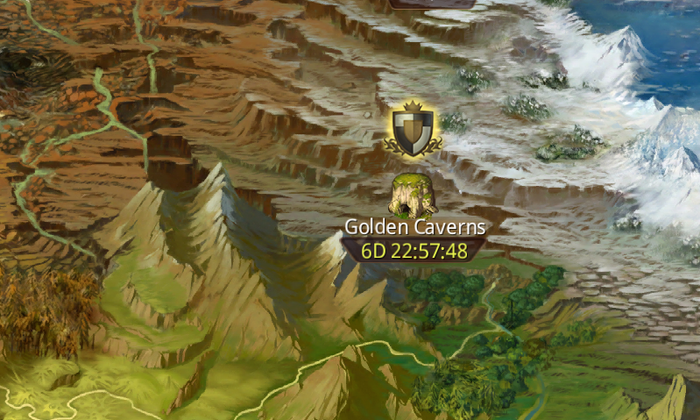 Golden Caverns is a limited time only city that occurred in October 2014. Golden Caverns lasts for seven days.
Lore
Excavators in the western mountains have uncovered caves filled with riches! The Golden Caverns shimmer day or night , and natural golden ore is ripe for mining. But something more sinister lurks in the Golden Caverns: A viscous seven-headed beast. Be wary of this foul creature, for its temper is legendary, and it's breath is fiery.
Take on Golden Galzra and the Golden Caverns now for a chance to win fantastic prizes! Collect Golden Fangs and bring them to Merlin to help win the best of rewards.
Equip the following cards to help increase Golden Fang findings while exploring the Golden Caverns.
Evolve your cards for even greater bonuses!
Tier 2 cards grant 2x
Tier 3 cards grant 5x
Tier 4 cards grant 12x
Confront Golden Galzra, on Hard for a chance to earn his allegiance! The more times you defeat him, the greater the chance of acquiring him! But be careful, for he can strike a nasty blow!
Golden Caverns Battles
Upon entering Golden Caverns you see the Menu options and your personal scoreboard/rank. You are given 2 choices in which you face different levels of Golden Galzra.
Only in Hard, you have a chance to win a Golden Galzra boss card.
Hard requires 30 stamina points per turn but yields better rewards. You see Tier 4 artwork for Golden Galzra
Easy requires 10 stamina points per turn. You see Tier 1 artwork.
Loot
Exploring Loot
Hard
Cost: 30 stam
Easy
Cost: 10 stam
Boss Loot
| Difficulty | Fang | Cards |
| --- | --- | --- |
| Easy | 10~ | Dire Bear, Giant Eagle, Giant Boar, Quillbeast, War Hound, 1x Ticket, 1x Stamina Potion |
| Hard | 20~40~ | Golden Galzra, Dire Bear, Alpha Stag, Giant Eagle , Cockatrice, Grey Mule, 5x Ticket, 1x Summon Stone, |
Rank Awards

Reward Ladder
250 - 1x Summon Stone
500 - 1x Summon Stone
1000 - 2x Stamina Potions
2500 - 1x Brown Donkey
5000 - 1x Summon Stone
7500 - 1x Grey Mule
10000 - 4x Summon Stones
15000 - 4x Mana Potions
25000 - 1x Summon Stone
35000 - 1x Grey Mule
49000 - 8x Summon Stones
60000 - 12x Mana Potions
250000 - 1x Golden Galzra
Possible Chest Rewards
Golden Galzra
Megion
Ruibh the wyrm
Dragon Caller
Dragon Slayer
Rock Dragonaire
Community content is available under
CC-BY-SA
unless otherwise noted.