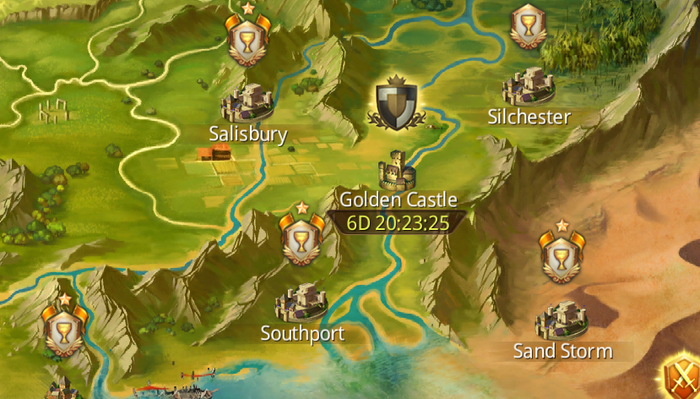 Golden Castle is a limited time only city that occurred in September 2014. Golden Castle lasts for seven days.
Lore
Welcome to the Golden Castle, where golden coins pile the streets and untold fortunes await! But be wary, for even here in this city of riches, all that glistens is not gold. Greed lurks at every corner, and wealth corrupts even the most noble of knights...
Dare you challenge the streets of the Golden Castle? Dare you enter and risk your reputation on a chance at wealth and fame...or even your life?
Come, heroes! Enter the fabled gates and bring Merlin Golden Shields for a chance to win fabulous riches! But look out for the city's fallen tyrant, Golden Galahad!
Equip Sir Percival, Hudde, Maiden of the Order, Galland and Sir Galahad to boost your Golden Shields findings while exploring the Golden Castle!
Evolve your cards for even greater bonuses
Tier 2 cards grant 2x bonuses
Tier 3 cards grant 5x bonuses
Tier 4 cards grant 15x bonuses
Confront Golden Galahad on Hard for a chance to earn his allegiance! The more times you defeat him, the greater the chance of acquiring him! But be careful, for he can strike a nasty blow!
Golden Castle Battles
Upon entering Golden Castle you see the Menu options and your personal scoreboard/rank. You are given 2 choices in which you face different levels of
Golden Galahad
.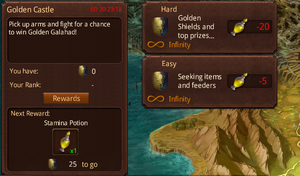 Only in Hard, you have a chance to win a Golden Galahad boss card.
Hard requires 20 stamina points per turn but yields better rewards. You see Tier 4 artwork for Golden Galahad
Easy requires 5 stamina points per turn. You see Tier 1 artwork.
Exploring Loot
Easy
Hard
30 xp & 30 gold
Summon Stone
Golden Shield
5* Chest
Rank Awards

Reward Ladder
5000 - 1x Summon Stone
7500 - 1x Grey Mule
10000 - 4x Summon Stone
15000 - 4x Mana Potion
25000 - 1x Summon Stone
49000 - 8x Summon Stone
60000 - 12x Stamina Potions
80000 - 1x Golden Arse
175000 - Golden Galahad
every 25000 - 1x Summon Stone
Possible Chest Rewards
Golden Galahad
Sir Galahad
Sir Percival
Lapis Knight
Green Knight
White Knight
Galland
Hudde
Maiden of the Order
Maiden Exemplar
Diamond Knight
Sir Kay
Gawain's Guard
General Morbius
Violet Knight
Paladin
Duelist
Vanguard
Community content is available under
CC-BY-SA
unless otherwise noted.